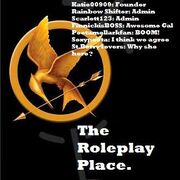 Here, below, you write down what your username is and who you are roleplaying in the comments. When you have done that, post a comment down below, roleplaying your character. This roleplay will be based in the actual Hunger Games, in the battle. Don't be frusturated if no one joins in, someone will come eventually. If the character you wanted is already taken, pick another and if not, join another roleplay.
Happy roleplaying, and may the odds be ever in your favour.
Characters
Edit
| Name: | Roleplayed by: |
| --- | --- |
| Marvel | Rainbow Shifter |
| Clove | Scarlett123 |
| Thresh | FinnickisBOSS (just for a while) |
| Cato | Katie00909 |
| Finnick | FinnickisBOSS |
| Annie | St.Berry4evers |
| Rue | Morar2000 |
| Johanna | GlimmerandSparkle |
| Foxface | Bystander100 |
| Maysilee | Henryjh98 |
Ad blocker interference detected!
Wikia is a free-to-use site that makes money from advertising. We have a modified experience for viewers using ad blockers

Wikia is not accessible if you've made further modifications. Remove the custom ad blocker rule(s) and the page will load as expected.